WELCOME TO OUR HALLOWEEN PAGE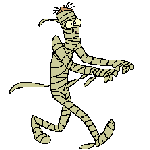 days 'til Halloween 2003.

PREPARE YOURSELF FOR THINGS THAT MAY SCARE YOU.THINGS THAT MIGHT DISGUST YOU AND WE HOPE THINGS THAT WILL ENTERTAIN YOU.
WE HAVE ADOPTED A GHOST WE CALL

"GHOULIE"

TO GET YOUR OWN GHOST CLICK ON THE LINK BELOW


Here are some halloween sounds we think you'll enjoy
Just click on the icon

--THEME FROM" HALLOWEEN"

--TALES FROM THE CRYPT

--CHARLIE BROWN "THE GREAT PUMPKIN"

--THEME FROM THE EXORCIST
--"DONT FEAR THE REAPER"

--"THE NIGHTMARE BEFORE CHRISTMAS"

--" ARE YOU AFRAID OF THE DARK (NICKELODEAN)"

--"THE X FILES"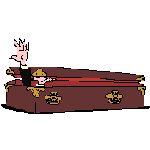 CLICK ON THE COFFIN FOR A SCARY STORY
CLICK THE DOOR FOR OUR GRAPHICS PAGE


CLICK THE SCARY STUFF BANNER FOR OUR SCARIER GRAPHICS PAGE
("WARNING" SOME IMAGES NOT FOR THE LITTLER HALLOWEEN FANS)


CLICK HERE TO VOTE FOR US AS A TOP 50 HALLOWEEN SITE-(USE YOR BACK BUTTON TO RETURN HERE FOR MORE FUN)-


"CLICK THE TOMBSTONE FOR A LINK THAT SHOWS YOU HOW TO BUILD A HAUNTED HOUSE"



" CLICK THE SKULL TO BUILD YOUR OWN MONSTER"



" CLICK THE MUMMY FOR A GAME CALLED "BOOGERS THE CAT""


BEETLEJUICE
visitors since sept 3 2000

whoryou22@aol.com
we also have some christmas pages